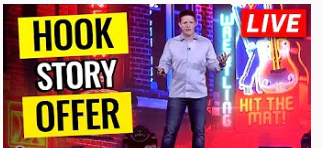 Ready to sell more courses? Today I want to share some very special training from one of my favorite gurus…. Russell Brunson.
His training on how to find "leads" (potential students) and nurture them into customers (students) will help you think about selling your course in a whole new way.
You can watch his latest presentation for free! It was the opening presentation at his event, Funnel Hacking Live. If you have time, go back to the beginning and watch the entire video. It had me in tears! But if you're busy, I pulled out the section that will be most helpful for you… the Hook, Story and Offer training.
And of course, I created a cheat sheet for you… sign up to get yours here:
Then watch Russell's training.
If you enjoy the way he teaches, you'll definitely want to sign up for the next One Funnel Away challenge here.