By Alina Vincent
Facebook marketing is one of the easiest paths to building an email list full of engaged subscribers.
Why? Because no matter who your ideal clients are, they likely use Facebook.
In this article, I'm sharing 4 ways to build your email list with Facebook–without running a single Facebook ad!

The Importance of Building an Email List
Your email list is the lifeblood of your business.
With email, you can keep in contact with previous clients, promote your new products and services, and fill your events by marketing directly to people who are already interested in what you are selling.
By building and nurturing your list consistently, you will never struggle to get new clients, book your services, or fill your programs.
Plus, email marketing can be incredibly cost-effective–especially if you know how to build your email list without spending a fortune on Facebook ads.
Email marketing gives you a 3,800% return on investment (ROI)–which means you receive $38 in sales for every $1 you spend on it.

Where to Look for New Subscribers on Facebook
Your Facebook Fan Page
If you have a business fan page on Facebook, ask your followers to join your email list.
In exchange for signing up, offer them a free resource, such as a checklist, workbook, or a free email course.
Facebook Groups
If you have your own Facebook group, create a post asking your group members to join your email list.
If you don't have your own Facebook group, you can look for potential subscribers in other people's Facebook groups.
Start by joining 3-5 Facebook groups in your niche.
For example, if you are a health coach for busy moms, look for a few mom groups you can join.
Make sure to check the group's rules before asking people to join your email list.
Some groups don't allow self-promotion while others limit it to dedicated weekly promo threads.
Your Personal Facebook Account
Last but not least, you may be able to leverage your personal Facebook account to add a few additional subscribers to your list.
If you see a Facebook friend struggling with a problem that your business can solve, feel free to send them a message.
If they respond positively, you can advance the conversation and ask them to join your list.
You can also post a request on your personal Facebook profile, asking people to join your email list.
4 Ways of Building an Email List with Facebook (Without Ads)
1. Engage Your Followers.
Engagement equals conversion.
If you don't engage with your followers, you can't expect them to sign up for your email list or purchase your paid offers.
Your own Facebook group is the absolute best place to engage with potential subscribers on Facebook.
It gives you a space to have regular, two-way conversations with your ideal clients.
In order to increase engagement, provide value without expectations.
Support your group members on their journey, talk about things that might interest them, and ask insightful questions to get the conversation going.
If you do this consistently, they will be more receptive to joining your email list when you ask.
2. Position Yourself As the Trusted Expert.
If you want people to subscribe to your email list, they need to understand the value they will receive.
When you position yourself as a trusted expert, whether on your page, in your group, or your personal profile, people will want to hear more from you and feel more inclined to join your list.
To position yourself as an expert quickly, pick a narrow niche to focus on.
Then start engaging as an expert on that topic–for example, by answering questions in other people's Facebook groups.
Share information, provide helpful tips, and ask questions that other people may not have thought of themselves.
Once you've established your expertise, ask people to join your list so they can receive even more helpful tips and free advice from you.
3. Create a Community That Grows Itself.
One of the best reasons to have a Facebook group?
It's a community that grows itself -and your email list as a result.
Create a Facebook group that's open to anyone who could be a potential client.
Center it around their interests, not your business, and watch it grow on its own!
Keep in mind that people who join your group won't always know you have an email list as well.
To make sure you get as many subscribers as possible, when someone joins your group, send them a message asking them to join your list.
4. Run Facebook Challenges.
Facebook challenges are my favorite way of attracting email subscribers, Facebook group members, and clients to your business–all at the same time!
A Facebook challenge could attract hundreds of new email subscribers in just 5 short days.
When someone joins your challenge, send them a message inviting them to join your list as well.
So let me invite you to my Visibility Challenge next week…we will spend a few minutes a day and build your Facebook visibility.
About the Author
Alina Vincent is an online business strategist who helps business owners shorten their paths to profitability and scalability and get a five-year head-start. Alina is gifted in her ability to quickly synthesize and simplify complex ideas into actionable, logical, results-generating steps without overwhelm. Clients quickly accelerate their social media traffic, quality lead generation and sales when they work with her. 
Now Take Action…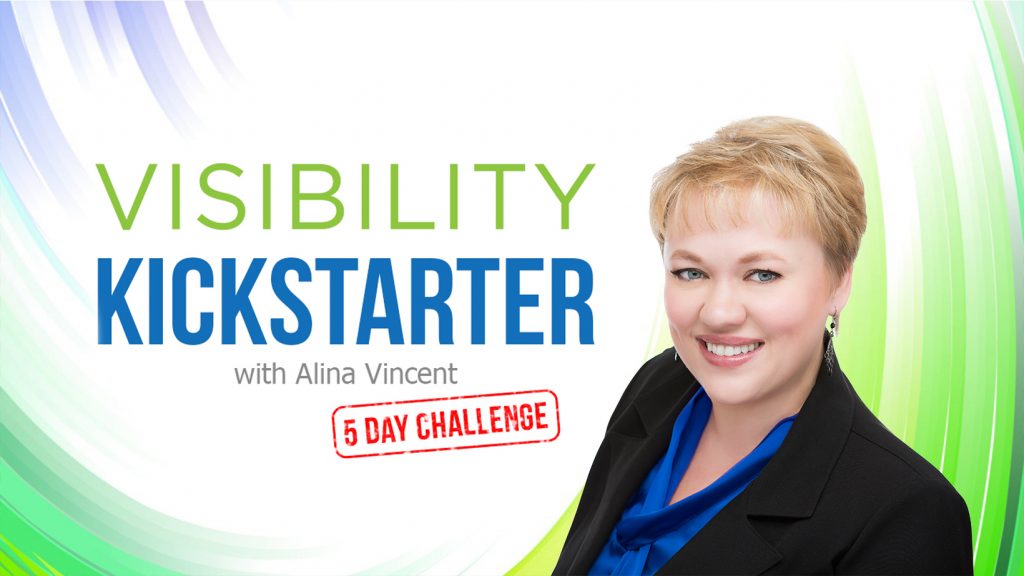 How to 10x Your Exposure in Just Minutes a Day

So many course creators who have a great message and value to offer struggle when it comes to getting their message out there and getting students.

Fortunately, online visibility expert Alina Vincent discovered a simple way to get more visibility and increase your reach and exposure online in just minutes a day without any paid advertising.

Discover How Here

She'll be teaching this exact formula in her 5-Day Visibility Kickstarter Challenge that starts next week.

There's no cost to join and by investing just a few minutes a day you'll learn how to 10x your exposure online, get your message (and offers) in front of more people and how to position yourself as the go-to expert in your industry.

The more visibility you get, the more students you can enroll and the bigger impact you can make.

Click Here To Join The Challenge Now


Top Tool: Trello to Get Things Done
My assistant (and daughter!) Emily and I just switched over to Trello to track her projects… and it has made a HUGE difference in making sure we get things done.

We were using email and I would send her projects, but keeping track of all the projects was getting out of hand.

So we started using Trello and it's so much better. Trello is a lot like having a big wall of post-it notes on your computer, and then you can move the "cards" around the lists.

Check it out and see if it helps you stay more organized and get more done.




PS – The short version: Make yourself more visible on Facebook with today's article and then jump into next week's Visibility Challenge.